Universal Health Coverage (UHC) and Impact of Population Ageing Research Development Programme 2018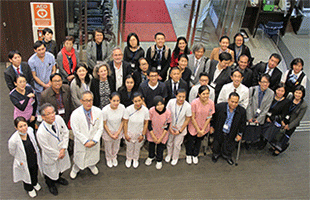 The Universal Health Coverage (UHC) and Impact of Population Ageing Research Development Programme in Yokohama City, Japan, took place from 26-29 March 2018. It was organized jointly by the WHO Kobe Center and Kanagawa Prefecture Government, with the support of Japan's Ministry of Health, Labour and Welfare. The workshop focused on the development of research proposals for short-listed ASEAN researchers who responded to the July 2017 WHO research call for proposals about UHC research relevant to the planning and strengthening of national health systems. This research programme was launched as a follow-up to the ASEAN-Japan Health Ministers Meeting in July 2017.
Mr Yuji Kuroiwa, the Governor of Kanagawa prefecture, declared his support for and strong commitment to innovative health care policies which are responsive to a super-aged society. He also warmly welcomed delegates from research teams representing 9 ASEAN countries and Japan, to Yokohama. "I hope that through this workshop, participants will become well-informed about Kanagawa's innovative health care policy, and establish networks for future collaborations between Kanagawa and ASEAN researchers," Governor Kuroiwa stated.
"The World Health Organization and WHO Centre for Health Development are fully committed to supporting research on UHC in ASEAN countries," stated Dr Sarah Louise Barber, Director of the WHO Kobe Centre.
On the first day of proceedings, participants had opportunities to hear about perspectives on UHC from the viewpoint of Kanagawa Prefecture, including an introduction to Kanagawa Prefecture's Me-Byo concept, which aims to create a new social model for responding to a super-aged society. Following this and in a bid to enhance understanding of the objectives and goals of WKC's Programme of Research on UHC in ASEAN countries, WKC presented overviews on 1) the development of ASEAN health systems, past and present, within the contexts of population ageing and national burdens of disease; and 2) WKC's quality assurance framework for research. The afternoon session offered ASEAN research teams the opportunity to present their research proposals in order to enhance mutual understanding and thus, stimulate discussions among researchers from different countries.
On the second day, participants went on field visits to Kanagawa Prefecture's Life Innovation Center in Kawasaki City and other health institutes in Kawasaki City's Tonomachi International Strategic Zone. The third and the fourth days were dedicated to individual proposal development, and WHO staff provided support and guidance to individual teams as part of efforts to strengthen the proposals.
Dr Carmelita Canila, Assistant Professor, University of the Philippines said, "This workshop provided valuable opportunities to work with WHO staff to improve the research proposal. I appreciate all input as they enabled us to focus on what is strategic in-country." Dr Tran Thi Mai Oanh, Director, Health Strategy and Policy Institute, Hanoi said, "The session that our team found the most useful is the individualized support for protocol development and discussions with WHO staff because they helped us to know how to improve our research proposal in detail". The programme ended with presentations by each research team about their revised research proposals and implementation timelines.