WKC presents at HAT Kobe's Disaster Reduction Alliance Symposium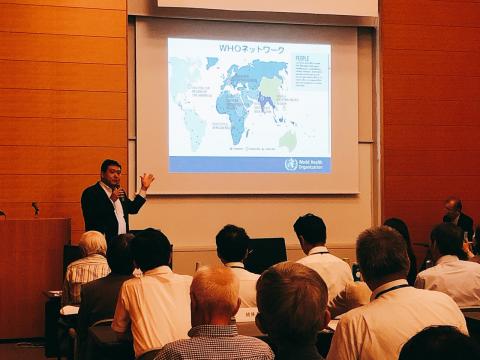 HAT Kobe, where WHO Kobe Centre is located, is a newly developed area through the reconstruction from the Great Hanshin Awaji Earthquake (GHAE). As part of the "build back better" initiative, Hyogo Prefecture invited numbers of international and domestic institutes involved in disaster risk reduction (DRR), including WHO, UNOCHA and UNDRR, to this area. To learn lessons from the GHAE, Hyogo Prefecture created a unique consortium of HAT Kobe institutes called the Disaster Reduction Alliance (DRA) to facilitate collaboration between them, including joint conferences and collaborative research.
On 27 August 2019, the DRA organized a symposium to introduce the member institutes' DRR activities. Dr Ryoma Kayano, WKC's focal point for Health Emergency and Disaster Risk Management (Health-EDRM), attended the symposium and gave a speech on WHO's action to support the implementation of the Sendai Framework for Disaster Risk Reduction 2015-2030, including the establishment of a global research network on Health-EDRM.
"Disaster risk reduction is a multi-disciplinary activity involving stakeholders from different backgrounds. The impact of health disasters on people can be a bridge for different sectors to collaborate and build mutual understanding. WHO will work to improve scientific evidence in Health-EDRM through collaboration with global researchers," said Dr Kayano.