WHO/IFA Webinar Series: 7 February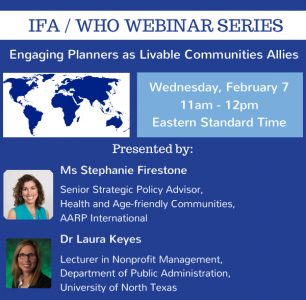 The International Federation on Aging and the World Health Organization Department of Ageing and Life Course are pleased to co-present the sixth instalment of the IFA/WHO Webinar Series.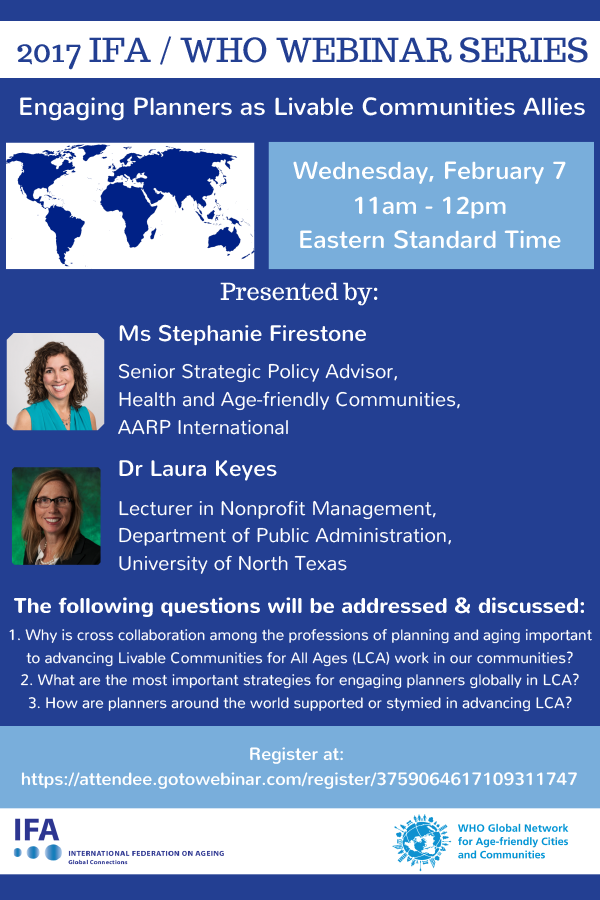 Speakers: Ms Stephanie Firestone, Senior Strategic Policy Advisor, Health and Age-friendly Communities, AARP International; and Dr Laura Keyes, Lecturer in Nonprofit Management, Department of Public Administration, University of North Texas
Time: Wednesday 7 February 2018, 11:00am – 12:00pm Eastern Standard Time (-05:00 UTC)
Topic: Engaging Planners as Livable Communities Allies
The webinar discussed findings from a survey done with planners and professionals on educational interventions towards greater integration of ageing in their work. Read more about the findings in this journal article (free access until 26 February 2018).
A recording of this webinar is available here. 
The IFA/WHO Webinar Series features experts from around the world exploring a number of critical and emerging topics on Healthy Ageing. All attendees are welcome – older adults, local, regional and national government policymakers, NGOs, clinicians, urban planners, and all those with an interest in building age-friendly environments.