WHO/IFA Webinar Series: 7 February
The International Federation on Aging and the World Health Organization Department of Ageing and Life Course are pleased to co-present the sixth instalment of the IFA/WHO Webinar Series.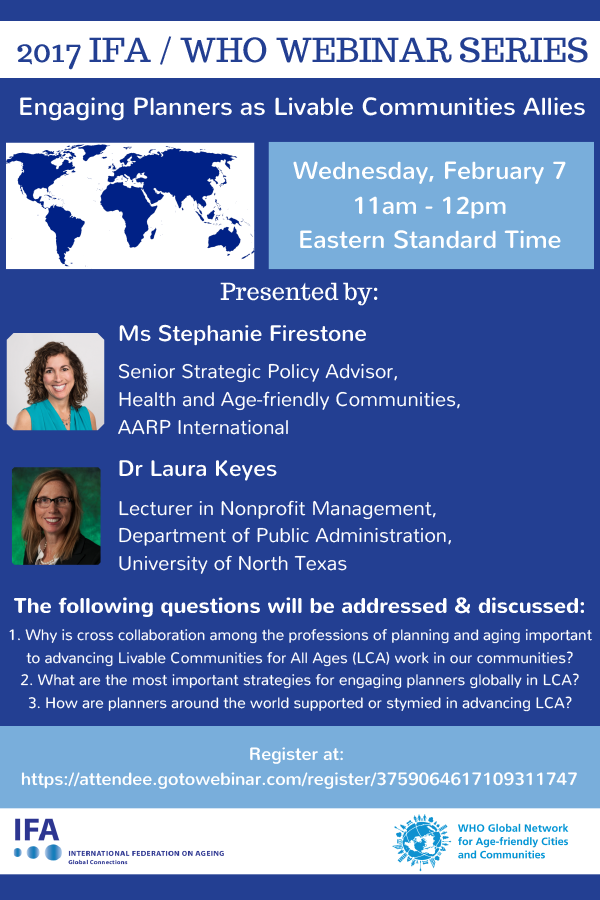 Speakers: Ms Stephanie Firestone, Senior Strategic Policy Advisor, Health and Age-friendly Communities, AARP International; and Dr Laura Keyes, Lecturer in Nonprofit Management, Department of Public Administration, University of North Texas
Time: Wednesday 7 February 2018, 11:00am – 12:00pm Eastern Standard Time (-05:00 UTC)
Topic: Engaging Planners as Livable Communities Allies
Participation is free and registration is strongly recommended. Register at GoToWebinar
The IFA/WHO Webinar Series features experts from around the world exploring a number of critical and emerging topics on Healthy Ageing. All attendees are welcome – older adults, local, regional and national government policymakers, NGOs, clinicians, urban planners, and all those with an interest in building age-friendly environments.